THE TERM RESTAURANT HAS ITS ORIGINS IN PARIS, WHERE ONE A. BOULANGER STARTED AS A SOUP VENDOR IN 1765. A SIGN ON THE DOOR SAID RESTAURANT, REFERRING TO THE RESTORATIVE QUALITY OF THE FOOD SERVED WITHIN.
The intriguing new Spiral building has been designed by Wolfgang Widmoser and Tony Gwilliam and is accessed both up and down by a spiral ramp.
The restaurant is situated on the top floor above the Spiral Spa. Whilst dining you will watch snorkelers, fishing boats, ferries, fastboats, tankers, super yachts and divers down below and the moon and stars above.
All diners have extraordinary panoramic views of Mt. Agung and the ocean.
Our restaurant serves home cooked meals, organic vegetables from our gardens and mostly locally sourced ingredients. The service is friendly and the atmosphere is casual amidst a breathtaking natural setting.
Our menu is versatile to please our international and local guests with an emphasis on freshly made food and drinks.
ECO NOTES
Products like palm sugar, cashew nuts, coconut oil, farm eggs and sea salt are sourced locally.
Green vegetables from our organic farm.
No plastic straws, no plastic bottles. Filtered Aqua is free of charge.
Prices are in thousand Rupiah, 15% tax and service will be added.
5% will be added for villa delivery.
In order to minimize plastic waste, we do not sell bottled water.
* Vegetarian
** Vegan
Calamari Fritti on Homemade Chili Lime Aioli


• Black Olives
• Deep Fried Local Sardines
• Mini Potato Empanadas
• Garlic Mushroom Canapés
• Baba Ghanoush w/ Kasava Chips
• Humus w/Carrot Sticks


HOMEMADE MUSHROOM QUICHE

45

Served with Mixed Greens


SWEET POTATO PATTIES * **

45

Sweet Potato Patties w/ Spicy Coconut Milk & Spinach Sauce
(Add Grilled Fish +20)

SOUPS
&
SALADS
Soup du Jour (Check our Daily Specials)
Chicken, Fish or Tofu, Lemon Grass, Coconut Milk, Galangal, Ginger, Fresh Coriander .


Coconut Milk (no dairy) topped with crispy Shallots and served with Croutons or Focaccia Bread


Bell Peppers, Tomato, Beetroot, Feta Cheese, Watermelon & Raisins, Organic Greens, Balsamic Vinaigrette, served with our Warm Bread. (Add Grilled Chicken Breast +20)


Organic Farm Greens, Grated Carrots, Green Papaya, Cashew Nuts, Honey Mustard Vinaigrette. (Add Grilled Chicken Breast +15)

Arugula, Feta Cheese, Cashew Nuts, Snake Fruit, Honey, Olive Oil, Balsamic Vinegar. (Add Grilled Chicken Breast +20)


Rice Noodles, Pickled Carrots, Cucumber, Bean Sprouts, Steamed Moringa, Ginger, Chili, Sesame Oil, Lime, Peanut Sauce. (Add Shrimp +20)


Grilled Chicken Breast, Tomatoes, Carrots, Cucumbers, Farm Greens in Coriander Curry.


Green Beans, Crispy Shallots & Garlic, Carrots, Bean Sprouts, Grated Coconut, Balinese Herbs. (Add Grilled Chicken Breast +20)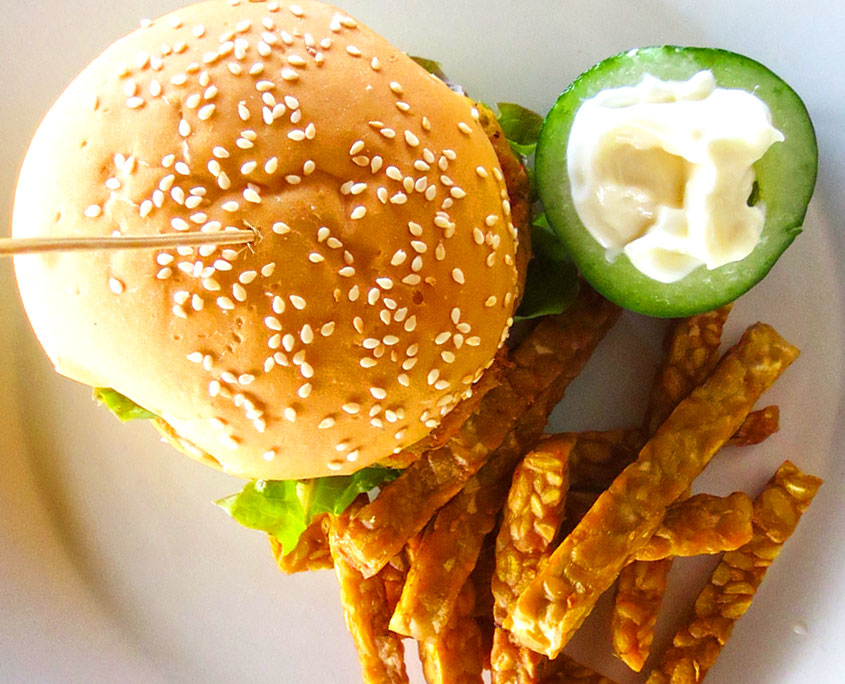 Grilled Bell Peppers, Eggplant and Tomato, Pesto, Mashed Avocado, on Ciabatta or Brown Bread, Onion Rings & Small Salad.


Veggie Patty, Tomato, Farm Lettuce, Gherkin, Caramelized Onion, Herb Mayo, on Homemade Bun with Tempe Strips & Sambal.


Grilled Beef Patty, Bacon, Cheddar, Tomato, Gherkin, Farm Lettuce, Caramelized Onion, BBQ Sauce, on Homemade Bun, served with French Fries

Homemade Pizza Dough and Pizza Sauce, Mozzarella, Tomato, Basil.
(Add: Grilled Vegetables, Arugula, Chicken, Bacon, Mushrooms, Caramelized Onions, Black Olives, Pineapple at Rp. 10/each)


House Tomato Sauce and Creamy Mushroom.


Spaghetti alla Bolognese

70

Homemade Tomato and Meat Sauce, Parmesan.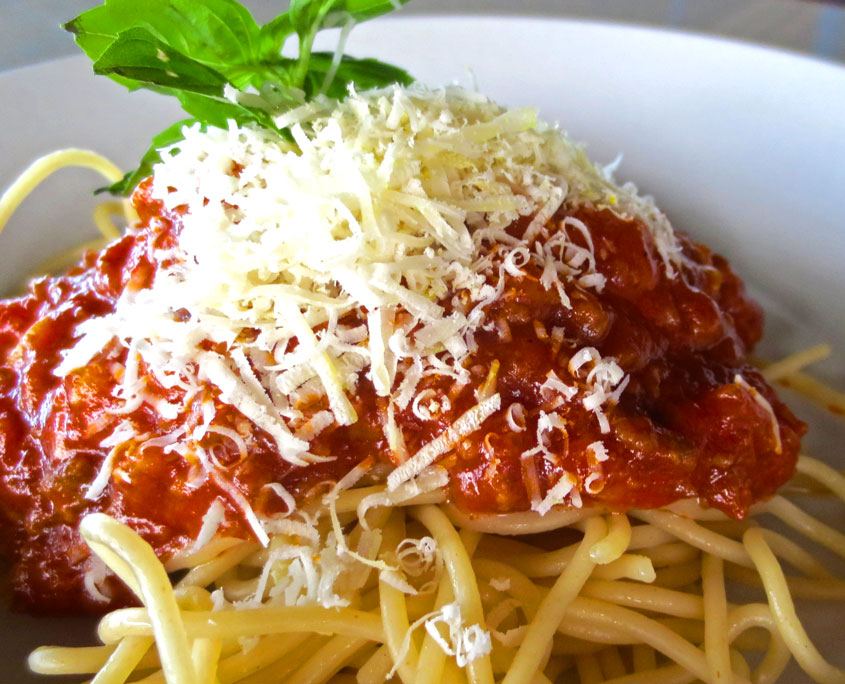 Grilled Chicken Breast, Grilled Seasonal Farm Vegetables, Farm Chili Salsa, Wheat Flour Tortillas


Tiger Prawns & Salsa Verde

95

Grilled Prawns with Basil, Garlic, Olive Oil Sauce, served w/ White Rice or Focaccia Bread.


Chef's Pan Sauteéd Mahi Mahi

115

Our favourite local Fish, Grilled Vegetables, Purple Sweet Potato Puree.


Marinated in Rosemary with Steamed Green Beans, Apple Sauce, White Rice or Mashed Potatoes.


Tiger Prawns in Spicy Coriander Lemongrass Coconut Curry, Organic Red Rice

200 gr. Sirloin Beef Steak, Grilled Vegetables, French Fries or Mashed Potatoes


Taste of England Fish and Chips

110

Fish of the Day dipped in Beer Batter, French Fries, Tartare Sauce


Layers of thinly sliced, breaded and sautéed Eggplant, Tomato Sauce, Parmesan.


Fish, Shrimp & Squid, Tomato & Herbs, served with Focaccia Bread.


Filled with Creamy Mushrooms & Sauteéd Spinach & Feta & topped with a light Tomato Sauce (the natural green colour comes from pandan leaves).

Traditional Balinese Vegetable Curry, Farm Vegetables, White or Red Rice.


BBQ Chicken & Pork Skewers, Grilled Vegetables, White or Yellow Rice & Peanut Sauce.


Minced Fish, Fragrant Herbs & Spices wrapped in Banana Leaf and steamed Yellow Rice.

Organic Red Rice, Chicken, Vegetables, topped with Fried Egg, Roasted Peanuts, Fried Shallots, Rice Crackers, Acar. (Add Shrimp +20 )


Rice or Egg Noodles, Chicken, Vegetables, Soy & Saos Tiram, Kecap Manis, Ginger, Acar, topped with Fried Egg. (Add Shrimp +20)


Sauteed Tempe w/ Crispy Shallots, & Garlic, Palm Sugar, Red Chili.

Sweet Potato French Fries

30

French Fries, Tomato Ketchup

25

Roast Pumpkin, Aragula and Cashews

35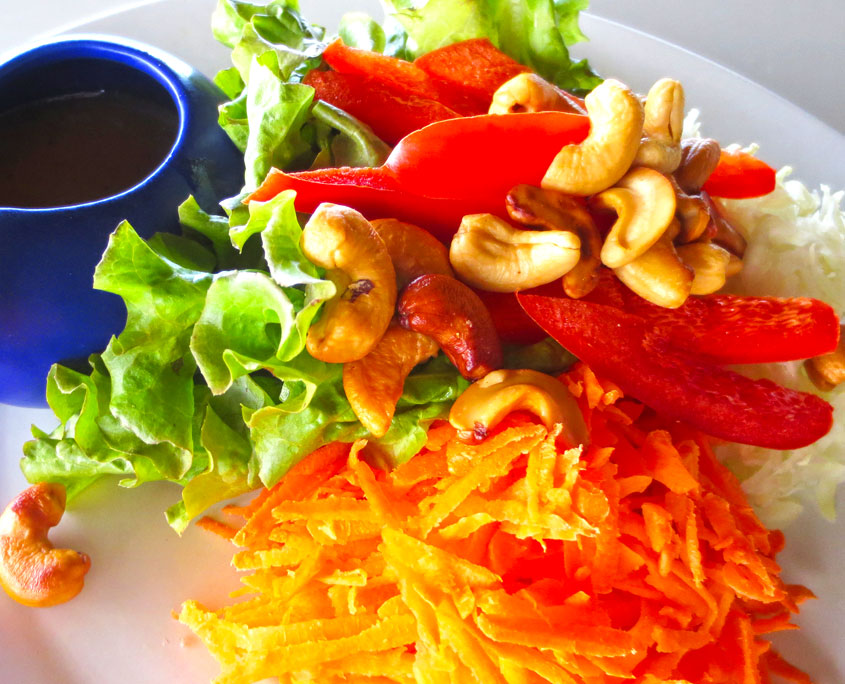 CREPES w/PALM SYRUP & LIME

30

Vanilla Ice Cream with Bailey's.


LEMON TARTE w/STRAWBERRY SAUCE

45

PASSION FRUIT PAPAYA TARTE

40

Add Ice Cream +10

Panna Cotta with Passion Fruit

40

Tropical Fruit Salad w/Honey, Cashews, Young Coconut, Yogurt

30

Chocolate, Vanilla, Rum Raisin, Strawberry, Red Bean


WARM CARROT WALNUT CAKE

45
Coconut milk, coconut water and lime


Watermelon, Lime & Mint

25

Passion fruit and orange

30

Fresh moringa, coconut meat, coconut water, lime.

MILKSHAKES, LASSIES, SMOOTHIES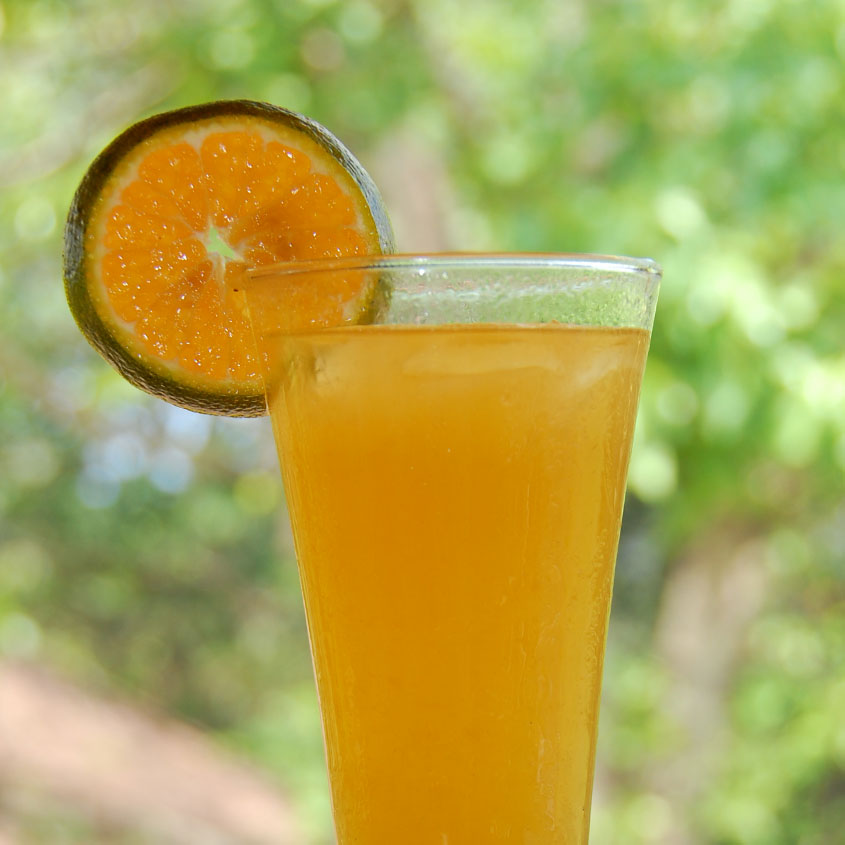 Papaya, mango, coconut water


Frozen strawberries, banana, coconut water


Banana, soy milk, cinnamon


Vanilla / Chocolate / Banana / Strawberry

COFFEE, Tea, WATER
&

TRADITIONAL DRINKS
Balinese herbal drink, chlorophyll booster & cleanser.


Turmeric, honey, sea salt, lemon, optional egg yolk.

Bali coffee, Black tea, Iced Tea

15

Cappuccino, Hot Cocoa, Caffe Latte

20

English Breakfast Tea, Green Tea, Earl Grey

20

Hibiscus, Ginger, Lemongrass

15

Tonic water, Soda water

15
LOCAL GRAPES

glass / bottle

House White Carafe

- / 190

600ml


Hatten Jepun Sparkling

- / 300
Australian Grapes

glass / bottle

Chardonnay / Cab Merlot / Shiraz


Chardonnay /Sauvignon Blanc / Cabernet Sauvignon / Cabernet Merlot / Rosé

Gin, Rum, Johnny Walker Red

85
Light Rum, Mint, Lemon, Coconut Water


Vodka, Fresh Lime Juice, Lemongrass & Ginger infused Simple Syrup


Tequila, Fresh Orange Juice, Grenadine Syrup

Tequila, Triple Sec, Fresh Lime Juice, Salt.


Light Rum, Fresh Pineapple Juice, Coconut Milk


Vodka, Light Rum, Passion Fruit, Fresh Lemon Juice


Light Rum, Condensed Milk, Coconut Milk